About Us

Our Mission: To be the preeminent resource for the media buyers and sellers in the greater Pittsburgh area.  To identify, celebrate and educate the media community.  To be a conduit for area businesses seeking to invest in media.
Arm yourself with the best tools and services and intellect when navigating the media world.  Prepare yourself with MAP – the Media Association of Pittsburgh.    MAP is a noun – an organization devoted to media.  MAP is a verb – being everything that is media.   However you approach media, we are your motivation and the heart of this industry.
Creative. Savvy. Media Smart.  We are Writers, Producers, Reporters, Anchors, Media Planners and Buyers, Product Developers, Account Executives, Agency Owners, Station Managers.  If it has to do with media, we have something to do with it and about it.  We're a body of devoted, dedicated, determined individuals who grasp the concept of media and all this wonderful trade has to offer.
Our purpose is to provide focused education about our media world, to recognize and honor outstanding individuals in our industry, to identify young scholars and encourage them to grow in this world, and to establish and maintain relationships with everything and everyone that is media.
We were established in 1946 as the Pittsburgh Radio and TV Club.  We have evolved as has our industry.  And we continue to look to the future in our digital world.
Ready to MAP?
---
Executive Board
Marisa Allen
2021 – 2022 President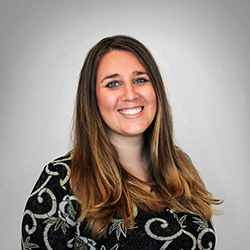 As an accomplished researcher, brand, and product marketer, Marisa has defined and implemented MNI's go-to-market strategy across campaigns, content, and marketing collateral as MNI's Director of Product Marketing before relocating to Pittsburgh to work closer with MNI's brand and agency partners.
Marisa has her finger on the pulse of the latest industry trends, making her an instrumental player in helping brands identify and understand their audience and deliver them across highly targeted digital and magazine solutions.
Marisa lives in Lawrenceville with her husband and their two cats – Homer and Hadley. She enjoys cooking, gardening, and making craft cocktails. She earned her Bachelor of Business Administration at The University of Pittsburgh.
Amy Mauk
2023 – 2024 Incoming President (Term Begins July 1, 2022)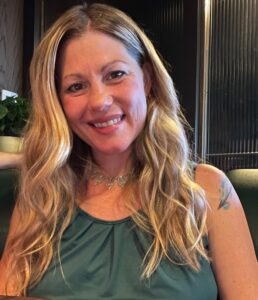 Amy Mauk is the Regional Promotions Manager for the Appalachian Region of Audacy with a heavy focus on Promotions, Events and Marketing in the Pittsburgh market.
Amy has a passion for people and problem solving and has been in the media industry for 20+ years.  She graduated from Indiana University of Pennsylvania with a degree in Communications Media and a minor in Journalism.  Following an internship at Good Morning America in 1999 she secured a full time position in the "videotape" department assisting producers and writers. Amy had the opportunity to return to Pittsburgh as the Afternoon Drive producer  for The Fred Honsberger Show on the historic KDKA Radio in Pittsburgh in the summer of 2001.  She has been promoted four times within the company and has a steady track record of success in each space.
In addition to planning successful events, promotions and partnerships, two areas of pride within her career are collaborating to support local non-profit organizations through radio and mentoring students interested in the media industry.
Outside of her career Amy loves to run, swim and read.  She lives in Sewickley with her husband Jeremy and sons Edison and Maxwell.
---
Doug Andiorio
Vice President of Communications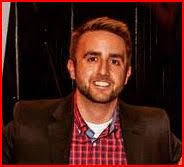 Doug Andiorio is a member of the client development team at the digital advertising agency, 535media.  He works with reps and their clients on their digital strategy and campaigns ranging over many products.  Before that he recently was a part of the digital sales team at WPXI-TV since 2017, before that he was Market Research Analyst at Comcast Spotlight, handling research for the Pittsburgh, Wheeling, Youngstown, and Johnstown-Altoona-State College markets.  His media career began at the Pittsburgh Post-Gazette as a Research Analyst in 2011 in their advertising department.  This was followed by working at Valassis Communications as Client Program Coordinator.
Andiorio is a Massachusetts native but has called Pittsburgh home since he graduated from Point Park University in 2011, where he also played baseball for two years.  Along with being a Pittsburgh sports fan he enjoys playing sports as well such as hockey, softball, and even kickball.
---
---
Christine Robertson
Secretary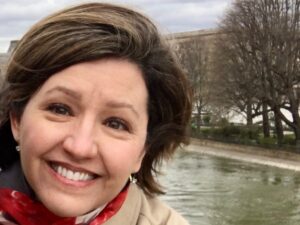 Christine is a Media Buyer/ Planner with Chemistry Communications. She works with a dynamic media team in both the Pittsburgh and Atlanta office on media plans and implementing buys for a range of clients.
Her media career started in Kansas City, and she went on to senior buying and planning positions at agencies in St. Louis and Cincinnati where, as a media supervisor, she bought broadcast in the top 20 DMAs.
After a lovely decade or so focused on raising her three children, Christine returned to the workforce as part of the launch team for Fairmont Pittsburgh hotel. There, she was Executive Assistant to the General Manager and served as Secretary for the Fairmont Condo Association.
In her free time, Christine is pursuing a USRowing Assistant Referee certification, enjoys reading, knitting and has discovered a passion for golf. You can also find her on Peloton, sweating away as MTLChristine.
---
Board of Directors
Jesse Ament, Scalo Companies // Jesse Ament Design
Dr. Bernie Ankey, Point Park University
Pete Baird, RedHouse Communications
Jenna Bluedorn, Level Agency
Alexis Lancelotti, Amazon
Todd Kane, Effectv
Mike Muldowney, WTAE-TV
Cassie Vadala, RJW Media